Dear applicant!
I invite you to pursue higher education at the Faculty of radiophysics, biomedical electronics and computer systems of Karazin Kharkov National University!
I, as a student of the specialty "biophysics", will tell you more than just about the Department of Molecular and Medical Biophysics, our faculty.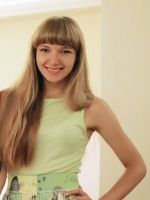 Much has already been invented and studied, but the biggest mystery still remain ourselves, that is why it is expected that the next research will rise in the life sciences, and in particular, in biophysics. This study brings together a host of other – physics, biology, physical chemistry, biochemistry, physiology, medicine, uses methods of mathematical analysis and programming. The subject of her study are physical and physico-chemical processes that underlie life. In general, if you can not decide between the biological and physical specialties, and want to benefit mankind, then your choice should be – biophysics! Our classes are filled not only interesting lectures, but also a vast array of entertaining laboratory work and on vacation you will be able to expand their scientific horizons and to make new friends, visit the International Summer School. For example, I was in summer school in Nova Grads (Czech Republic) and I can say with confidence that this is some of the best memories of my life!
Believe me, together with the Faculty of RBEKS your student life will be filled with bright colors, and you will become a highly skilled and competitive! Become part of our friendly team! We are waiting for you!
Sincerely, Anna Maksimenko