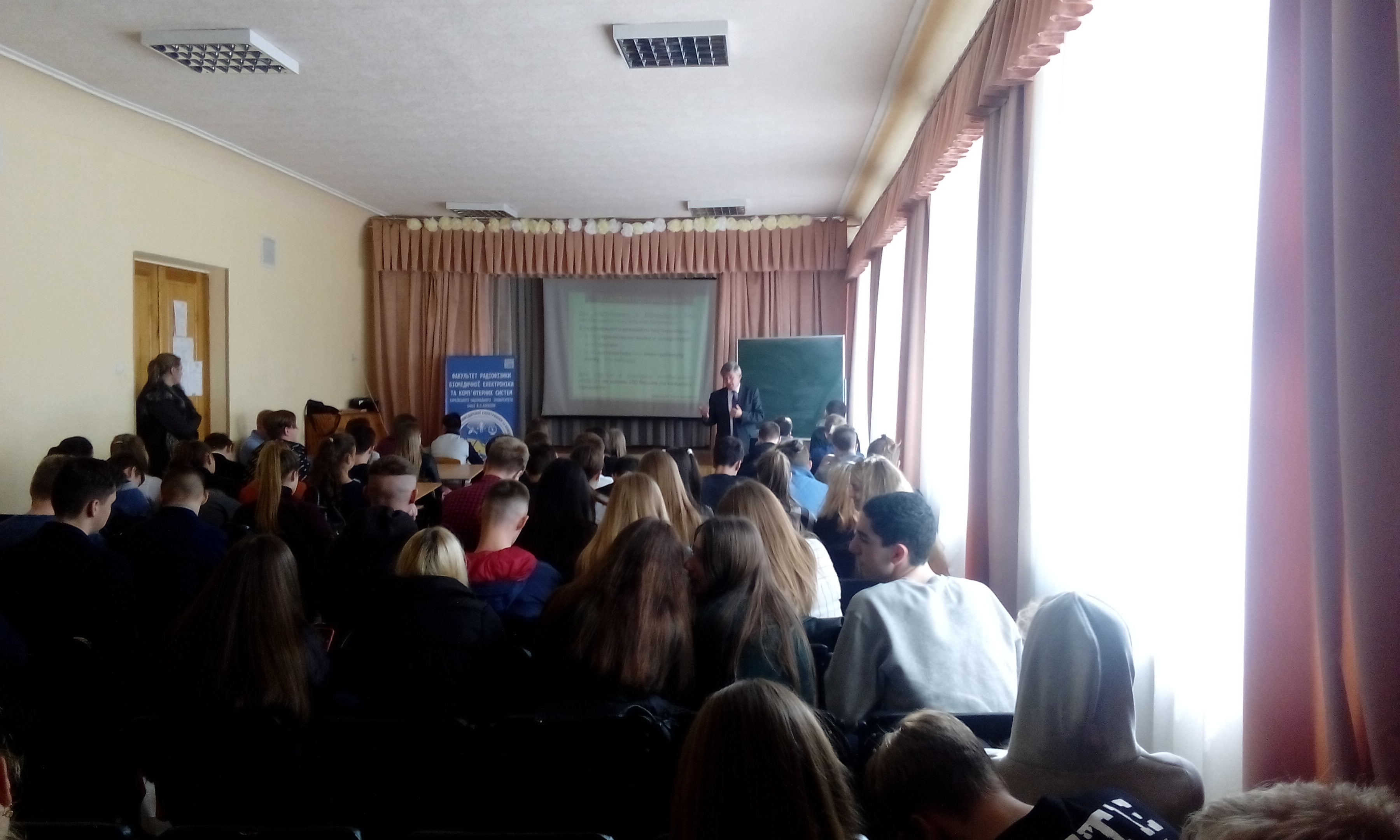 On October 9, representatives of the RBEC faculty Shulga Sergey Nikolaevich (dean of the faculty), Berest Vladimir Petrovich (head of the department of molecular and medical biophysics) and Legenkiy Maxim Nikolaevich (associate professor of the department of theoretical radiophysics) visited Kharkiv secondary school I-III steps №126 . A meeting was held with students of 10-11 grades. During the meeting, schoolchildren were informed about the composition, activities, traditions of the faculty, the conditions of admission, as well as interesting activities for schoolchildren, which are organized by the faculty.
Later, the school passed the I (district) stage of the XII city tournament of young inventors and innovators . The tournament was attended by teams of 8 schools of the Kholodnogorskiy region. The jury of the tournament was made up of teachers, staff, graduate students and senior students of the faculty RBEC. In particular, the jury consisted of Ph.D., associate professor Berest V.P., Ph.D., associate professor N. Blinova, Ph.D. Light N.N., Researcher Bykov S.N. The leaders of the tournament were also representatives of our faculty, graduate student Khrychov VS and students of the 5th year Pisklov P.V. and Kalambet M.S.
According to the results of the tournament:
I place was taken by the school №108 team.
II place was taken by the school №126 team.
III place was shared by the team of gymnasium №13 and the team of school №18.
The best technologist was a student of the school №18 Brazhnik Taisiya.
The best pathologist was a student of the school №126 Buvalets Alexander.
The best inventor was a student of the school №108 Ordeha Daniel.
The above-mentioned schools and pupils were awarded diplomas from the Department of Education of the Kholodnogorsky District of the Kharkiv City Council.
Representatives of the Department of Education and team leaders noted a significant increase in the level of the tournament thanks to the participation in the jury of the tournament teachers and staff of the faculty of RBEC.
In addition, the chairmen of the jury reported that all participants of the tournament were invited to visit the faculty of RBEC and get acquainted with its activities. At the same time, participants of the tournament will be awarded letters of encouragement from the faculty, and some students will be awarded special diplomas and prizes from the jury of the tournament.