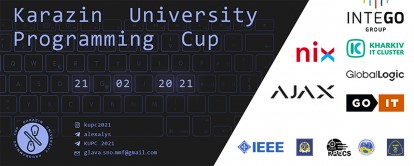 On February 21, 2021, the university hosted the All-Ukrainian Sports Programming Tournament (news about the event on the Kharkiv IT Cluster website Kharkiv IT Cluster), in which was attended by over 200 students, including students from universities in our country and other countries. The tournament was held on the platform.
The sponsors of the event were the following companies AJAX, DEV-PRO, EPAM, Global Logic, GO IT, Intego group, NIX.
The idea of the event was to attract new people to the programming, give them the opportunity to evaluate their abilities, and also make a serious challenge to participants who are already experienced in sports programming. For this, the tasks were divided into 2 difficulty levels, where 2 level was solved exclusively by experienced participants.
The main goal of the tournament is to solve as many problems as possible in the allotted 5 hours in as little time and attempts to compile the code as possible. The quality of the code was also assessed. 12 algorithmic problems were provided for the solution – 9 corresponded to the 1st level of complexity. The remaining 3 were of increased difficulty.
The student scientific society of our faculty and its head student of the RB-31 group Andrey Bulova took an active part in the organization of the Karazin university Programming Cup. The event was held in an online format with YouTube broadcast of the opening, at which the students who took part in the organization, as well as the deputy dean of the RBECS faculty for academic work Alexander Dumin, the dean of the faculty of mathematics and computer science Grigory Zholtkevich and vice-rector for scientific and pedagogical work Anatoly Babichev spoke. Representatives of various IT companies also joined the broadcast and talked about career opportunities in this area.
For the next 5 hours, the participants solved the assigned tasks, the results of the solutions were updated online in the rating table, but in the last hour the table was frozen to create the effect of surprise for the participants.
The winners were also announced online. In total, 8 teams were awarded in various nominations:
• 1st place – "Luminaries" – nomination for experienced participants (starting from the regional level of participation in the Olympiads) who solved both difficulty levels;
• 3 places – "General classification" – winners within the 1st difficulty level;
• 3 places – "Best freshmen" – participants among 1st year students who received the highest number of points;
• 1st place – "Best Schoolchildren" – participants, schoolchildren with the highest number of points;
Among the winners were teams from Lvov, Kiev and Kharkov Polytechnic Universities. Among the schoolchildren, representatives of the 45th gymnasium of the city of Kharkov became the winners.
All winners received prizes and promised to take part next year.